Why Choose Our Team of Hair Extensions Specialists?
Are you becoming impatient with the process of growing your hair out?

Do you have a special event quickly approaching that would be enhanced if your hair was magically longer and fuller?

You might think that you are out of luck but we have the answer to your problems.

Remy Human Hair Weft Extensions.

If you are looking for the simplest way to add volume and length to your hair, Weft Hair Extensions are the perfect option. With the help of our Remy Human Hair Extensions you can have long and sleek hair that is simple to maintain. The added bonus is, you won't have to wait for it to grow on its own.

Remember, not all Hair Salons are experienced in applying Hair Extensions and very few use high quality hair. If you are looking for the highest quality standard in the industry, Melbourne Human Hair Extensions is the company you have been searching for.

We are recognised as one of the best in the industry. We have 10+ years of experience and have produced excellent results. Countless women have added natural volume and length to their hair with the help of our Hair Extensions experts. Their unparalleled expertise is what makes them leaders you should turn to.

Our stylists understand the most effective application methods and can help you with handy hints for maintaining the life of your Hair Extensions. As there are a variety of colours to choose from, we ensure that you receive expert advice to help you make the right selection.

We consult with you, asking questions about your lifestyle, the look you are trying to create and how much time you are prepared to dedicate to hair maintenance. We will also show you our range of 30+ colours so that you can determine which best suits your natural hair.

If you are looking to have Remy Human Hair Extensions applied, you need specialist that are known leaders.

Phone the team Melbourne Human Hair Extensions on 0439 349 946 to speak to one of our Hair Extensions Specialists.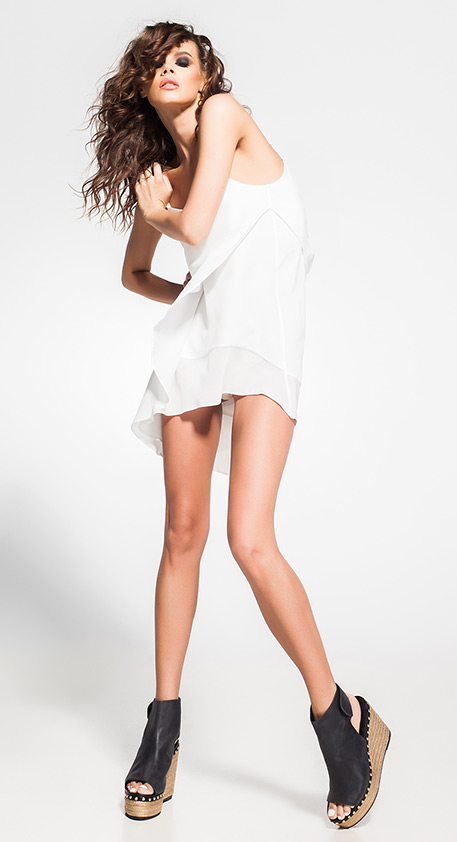 Why Do our Remy Weft Human Hair Extensions Stand Out?
Weft Hair Extensions are rows of hair, rather than individual pieces. When the wefts are applied there is no use of glue and there is no painful / damaging weaving.
Most importantly there is no heat or bonding.
The natural look and feel of our Remy Human Hair Extensions is what makes the difference.
Melbourne Human Hair Extensions are committed to applying hair that looks and feels completely natural and is not noticeable to the naked eye.
Everyone around you will simply assume that you spent years growing out your gorgeous long hair!
What Can You Expect of TG Hair Extensions?
When you choose our Weft Remy Human Hair Extensions you will not have to worry about any damage to your natural hair. The team at Melbourne Human Hair Extensions use the most gentle silicone beads to keep the Hair Extensions secure, ensuring no damage to your natural hair.

The Hair Extensions are applied quickly (in less than one hour) and can be removed in minutes.

As they are so lightweight, we assure you that you will forget that you are actually wearing Hair Extensions!
Wide Selection to Choose From
No matter what colour your natural hair is, it is possible to get Hair Extensions that match perfectly.
With over 30 colours to choose from, you can be guaranteed a perfect match.
Melbourne Human Hair Extensions can also customize the hair to meet your requirements by mixing and matching the colours we have in stock.
After Care Advice is Our Specialty
We are committed to ensuring that our clients have the information they need to maintain their Hair Extensions. Remember, caring for your Weft Remy Human Hair Extensions will keep them looking better and will ensure that they last much longer.

We will issue you an After Care Sheet, which covers areas such as:
Shampoo Frequency
You should treat Hair Extensions like your natural hair. This means that they need to be washed regularly but you have to avoid over washing. You should avoid washing your Human Hair Extensions more than 3 times per week. This will ensure that your Hair Extensions stay moisturised but do not dry out too quickly.
Deep Conditioning
It is essential that you deep condition your Hair Extensions once a week. This can be achieved through the application of an Intense Moisturising Treatment. It is recommended that the treatment is left on the extensions for approximately 20 minutes before rinsing and allow to air dry.
Heat Protectants
If you choose to use heat styling tools on your Remy Human Hair Extensions, you must remember to first apply a high quality heat protectant. This will shield your Hair Extensions from dame and keep them from becoming brittle. Extending the life span of your Human Hair Extensions is all about the products that you choose to use.
Be Gentle
It is important to remember that although your Skin Human Hair Extensions may look incredibly natural, they must also be handled with care. For example, when you are shampooing your Hair Extensions you should avoid being rough (e.g. do not pull at them, do not matte them, etc.) and when brushing them you should do so in a gentle manner.