Quick to apply.
Not bulky.
Lie flat against the scalp.
Smooth to touch.
Comfortable once applied.
Lightweight
No sewing, glue, heat or melting.
Perfect alternative for those not wanting microbeads.
Great for blending hair tones / colours.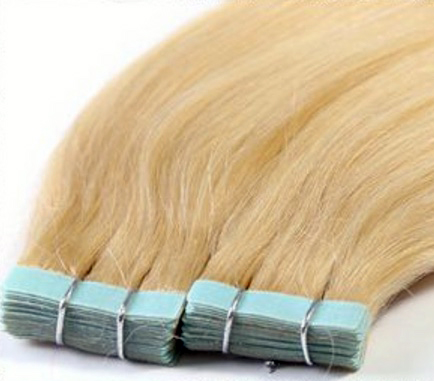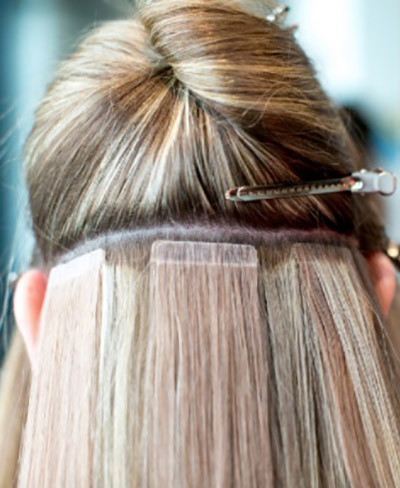 Applying Tape IN Hair Extensions To Achieve Length and Volume
If you are looking to achieve a combination of added length and volume, we recommend having approximately 40 pieces applied. This is of course dependent on the how thick / voluminous you would like the effect to be.
Applying Tape Hair Extensions To Achieve Volume
If you are only looking to achieve increased volume, we recommend applying approximately 20 pieces. Again, this may vary depending on the level of volume required.
Applying Tape Hair Extensions To Short or Naturally Thick Hair
Do you have noticeably short hair? Or naturally thick hair? If the answer is 'yes', for us to achieve your desired look, we may need to apply closer to 60 pieces. This will ensure that we have adequately filled out all of the required areas.
Applying Tape Hair Extensions To Spice Up Your Colour
Tape Hair Extensions are the perfect solution if you want to transform your colour, without making a drastic and permanent change. You can easily freshen and / or revamp your look by scattering elements of different colour throughout your natural hair.
We take neat sections of your natural hair and insert them between 2 strips of our 100% Remy Human Hair Extensions, using a gentle but secure translucent adhesive tape.
The section of hair that we place between the adhesive strips is always thin enough to grip to the tape but sufficiently thick enough to ensure that the piece of Hair Extension is well-supported.
At Melbourne Human Hair Extensions we do not adhere the Tape Extensions with any glue, clamps, heat, or flat irons. Furthermore, you will be very pleased to know that we do not melt the tape in any way.
Due to the simplicity of the application process this can easily be done in your home, or the salon. Please remember, after having your Tape Extensions applied we strongly recommend that you avoid washing your hair for a minimum of 48 hours. This will ensure that you give the tape sufficient time to bond properly.
We also suggest that you avoid exercise for the first 72 hours, as any moisture around the scalp region may have an affect on the tape adhesive.
How Often Should Tape Hair Extensions Be Re-applied?
On average, the Tape Hair Extensions will remain secure for between 6 and 8 weeks
Removing and Re-Applying the Tape Hair Extensions
Your Hair Extensions can be re-applied several times. It is as simple as our stylists removing the adhesive strips with an alcohol and natural citrus-oil based solution, after which we re-apply the Hair Extensions with fresh tape to new strands of hair. This ensures that the hair previously used is given an opportunity to rest and rejuvenate.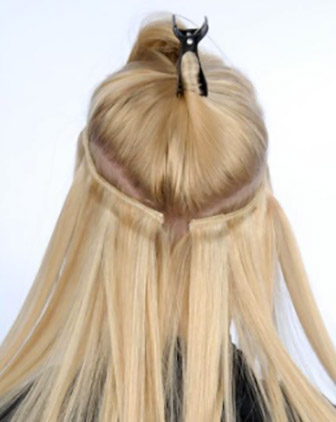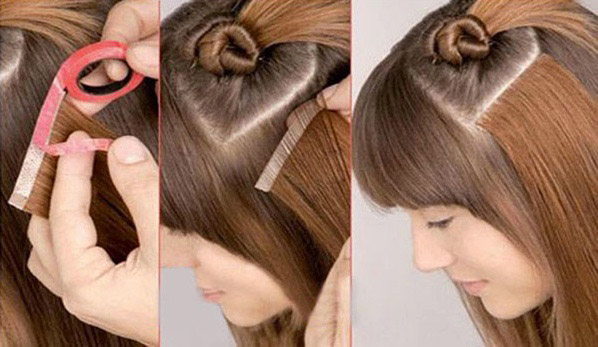 Caring For Tape Hair Extensions
Shampooing Your Hair
We recommend against using protein enriched shampoo and conditioner as this has the potential to cause the Tape Hair Extensions to become dry and / or tangle.
We also suggest avoiding shampoos that are medicated or toning. The ingredients have the potential to make the tape slip and can cause discolouration.
The primary aim of shampooing is to remove any oil build up from the scalp and / or the roots of your hair. As such, it is recommended that you focus on shampooing these areas, rather than the mid-lengths. This will ensure you target the right areas and that you avoid drying out the hair extensions.
We also recommend that you only wash your hair every 2 – 3 days.
Conditioning Your Hair
We recommend against applying conditioner to the roots of the hair, particularly around the tape region. Only apply conditioner to the mid-lengths and ends.
Once you have finished washing and conditioning your hair, ensure that you gently towel dry and avoid any vigorous rubbing or twisting.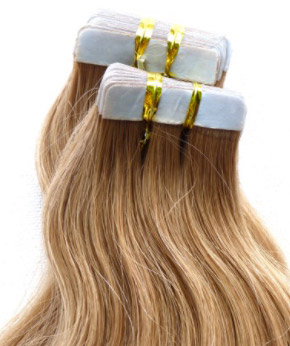 Brushing Your Hair
We suggest that the Tape Hair Extensions are gently brushed, particularly near the root / scalp area. Brushing too vigorously
To ensure the Tape Hair Extensions are cared for, use a soft bristle brush only at the root area and brush approximately twice per day.
As you move from the roots / scalp to the mid lengths of your hair, it is recommended that you hold your and firmly against the scalp to prevent any pulling of the tapes extensions.
When brushing the ends of the hair, we recommend that you hold your hair in a ponytail, as this will prevent any pulling at the scalp area. If you feel that your hair requires a firmer brush for the ends, that is no problem, provided you remember to hold the hair in a ponytail as you brush.
Styling Your Hair
As our Tape Hair Extensions are made from 100% Remy Human Hair, you can style them exactly as you would your natural hair. This includes blowdrying or using either a flat iron or a curling iron.
When blowdrying, it is important that you avoid placing direct heat on the tape adhesive.
Also, as you would with your natural hair, before applying heat, always use a salon quality heat protector serum.
Furthermore, we recommend that you use high quality styling products, such as leave-in conditioners.
How to Avoid Tangling
To avoid waking in the morning to tangled or matte hair, it is recommended that you avoid going to bed with wet / damp hair, that you plait / braid your hair in a loose and low plait / braid, or your gently or you have a very loose ponytail which is secured with the softest of scrunchies.
Avoid using the elastic bands you would commonly wear on your hair during the day.
We also suggest that you sleep on a silk / satin pillowcase, as this will prevent friction.
Swimming Advice
When swimming it is important to remember that there is the potential for prolonged exposure to water to weaken the adhesive. This does not mean you need to avoid swimming but instead monitor the length of time you are in the water.
It is also recommended that you immediately dry the roots of the hair upon exiting the water.
Finally, we strongly suggest that you place your hair in a ponytail prior to swimming, or better yet, if you have access to a shower cap, wearing one will prevent any degradation of the extensions and avoid tangling.
Product Guidance
Avoid using products that contain oil, citrus or protein near the root area as excess use of these ingredients can cause the tape to slip or move. This includes products such as Argan and Moroccan oil.
It is also recommended that you avoid having Keratin Smoothing Treatments on your Tape Hair Extensions as this will also cause slipping.
If your Tape Hair Extensions are regularly exposed to heat (e.g. hot steam from showers, heat equipment, etc.) and the consistency of the adhesive changes and becomes thick, you can use Tea Tree Oil to remove some of the residue.
Colouring Tape Hair Extensions
We recommend that you avoid colour your natural hair in the 3 days leading up to your Tape Hair Extensions application, as this might make the tape less adhesive to your natural hair.
Generally, we suggest you try to avoid colouring the Tape Hair Extensions but if it is required, you are always best to have the work performed at a professional Hair Salon.
If you want to colour your Tape Hair Extensions it is important to note that you can dye them darker but not lighter. We also strongly recommend that you do not apply bleach to the Tape Hair Extensions.