Custom Made Clip In Hair Extensions Range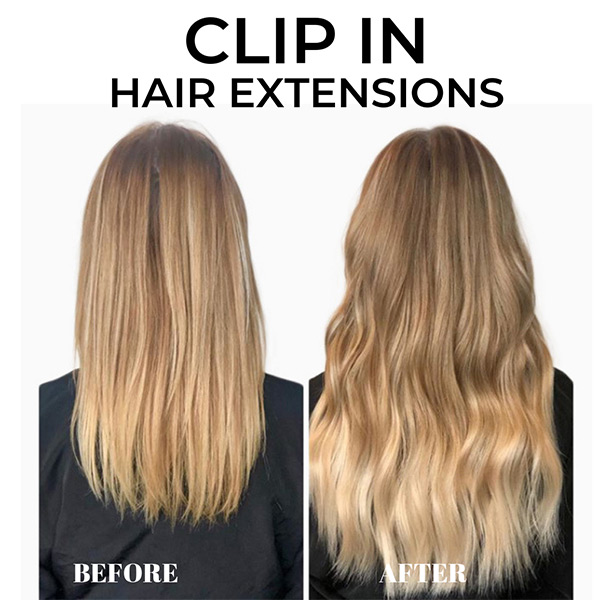 applied in under 60 seconds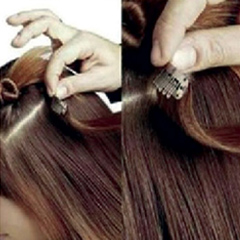 for those not wanting permanent extensions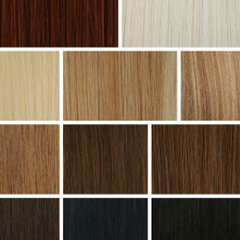 We do not use synthetic hair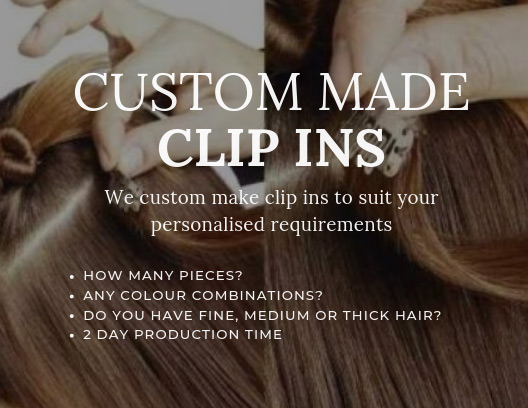 OUR CUSTOM-MADE RANGE
Are the perfect alternative to permanent Hair Extensions
Each piece is designed to match the shape of the client's scalp
The Custom-Made Range is produced using 100% Remy Human Hair
There is a range of colours to match all natural hair colours
Far superior to poor quality synthetic hair
Can be applied in under 3 minutes
The range is designed to be lightweight but completely secure
Can be re-used for 12+ months if treated with care
Why choose Clip In Hair Extensions?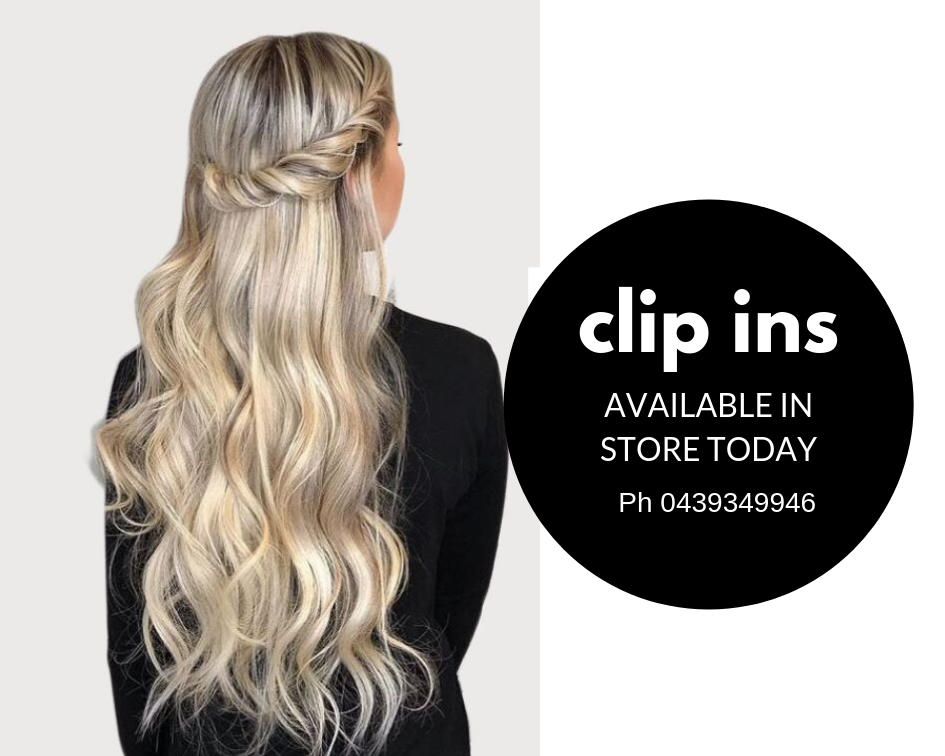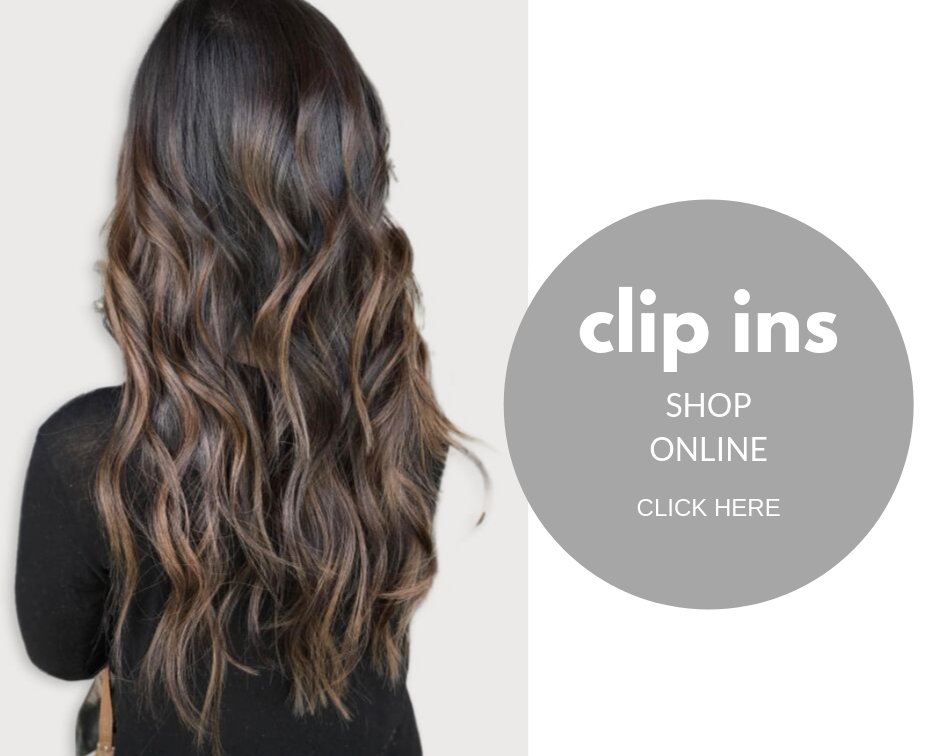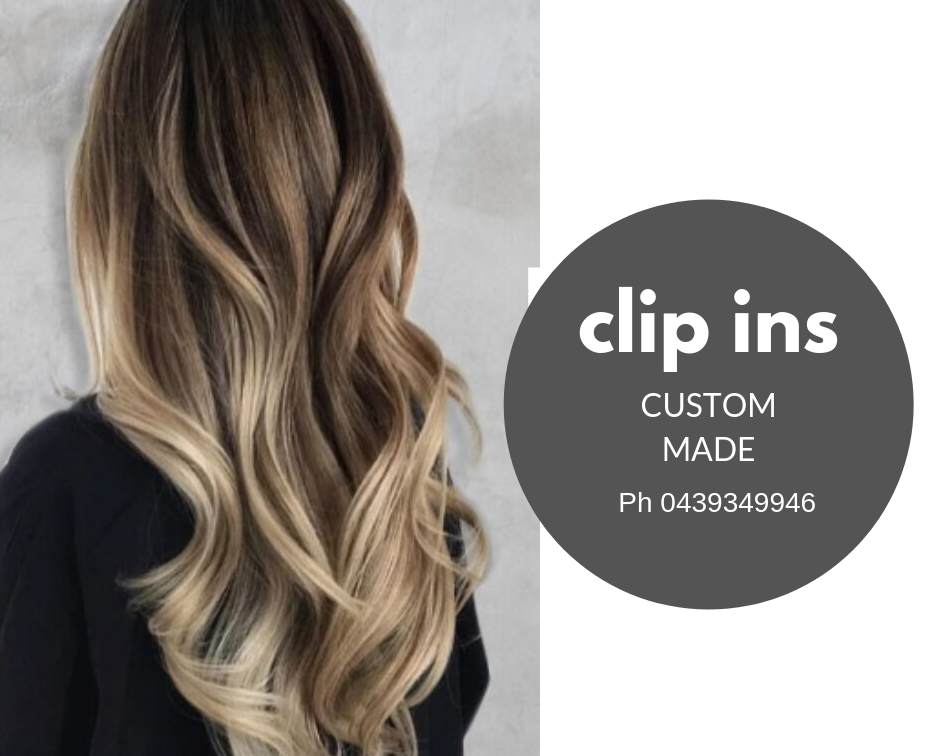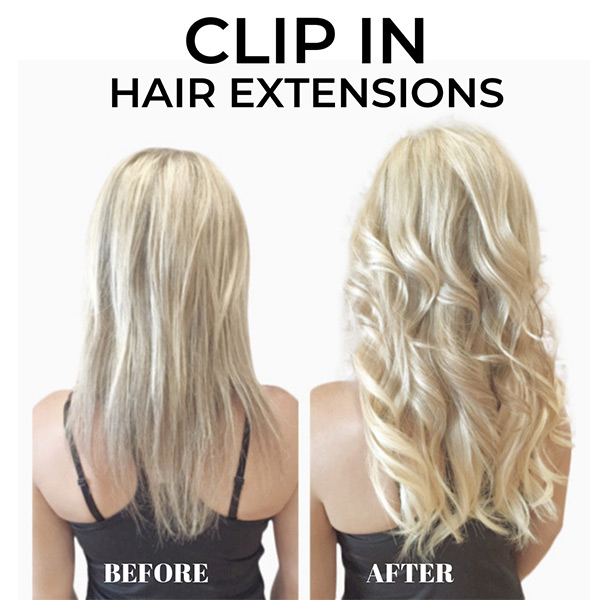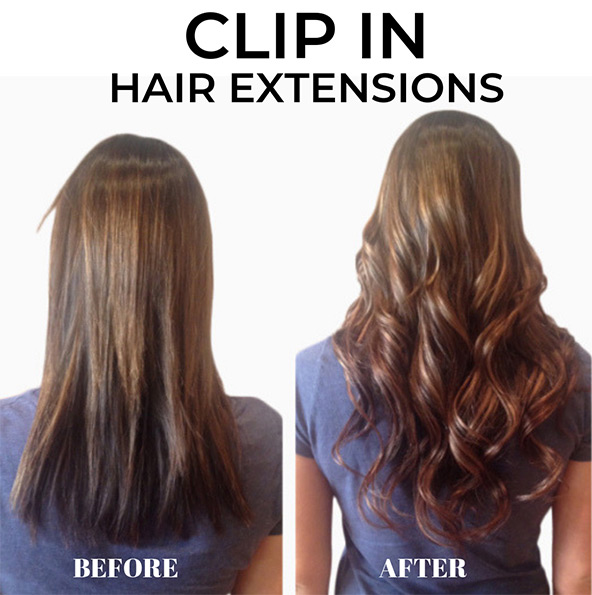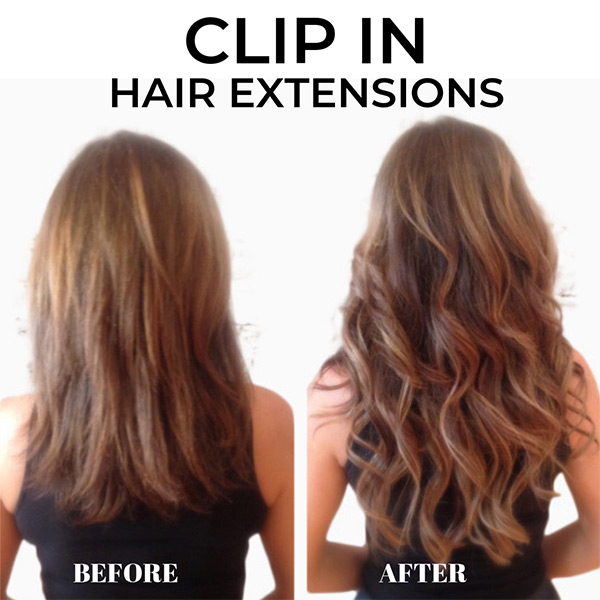 Benefits of Clip In Hair Extensions
Simple to Apply
Have you never applied Clip In Hair Extensions? Are you concerned that they will be too complicated to apply? Do not worry.
Clip In Hair Extensions are so simply designed that anyone can apply them, even without the assistance of a hairdresser, or friend. Even those who have never tried Clip In Hair Extensions will find the process of adding length (or colour for the matter) to their natural hair in just a few easy steps.
All you need to do to our Clip In Hair Extensions is part your natural hair, fasten the clips against your natural hair and then when they are in the right position, snap the clip in. Nothing more, nothing less. Super simple to apply!
Simple to Remove
The clips ins are even easier to remove than they are to apply. All you need to do is, part your natural hair, unclip the extensions and gently remove the wefts of hair by sliding them out. It is the reverse of the application process.
Perfect for Transforming Your Look for Special Occasions
Clips in Hair Extensions are most commonly used to transform a look for special occasions. Nights out, weddings, formal occasions, birthday parties, etc. the list goes on. Clip In Hair Extensions allow you to achieve a range of upstyles, plaits and braids. If you need your hair to look incredibly special for your next special event and you don't think your natural hair can do the job, speak to us about Clip In Hair Extensions.
Clips Ins Instantly Provide Length
Women often ask us how they can recreate popular looks, particularly when their hair is not super long. Women don't want to have to spend money at a Hair Salon every time they need to create a special look.
Many women also find the task of growing long and luscious hair to be difficult. It can take years to add length and it often results in dry and split ends.
If you have ever dreamt of going to bed and waking up the next morning with long, voluminous hair, then Clip In Hair Extensions might be the perfect solution for you. Yes, in only minutes, you can add several inches to your natural hair. It is just like magic!
Low Maintenance and Low Commitment
Some women love wearing Hair Extensions daily, while others prefer to save Hair Extensions for special occasions.
Women in the latter category often tell us that one of the main reasons they love Clip In Hair Extensions is because they provide a temporary change and require far less commitment.
Women who do not view Hair Extensions to be a daily necessity often prefer low maintenance options. They do not want hair sewn in or glued in and they don't want to have to visit the Hair Salon to have them applied or removed.
They want the freedom of choice and the ability to change their look at a whim and in minutes.
Clip Ins Allow You To Experiment
The beauty of Clip In Hair Extensions is that you can experiment with different colours, without having to permanently change your natural hair. Clip In Hair Extensions are perfect for experimenting with hair trends, particularly colours.
You might have been thinking about trying a balyage look or considering highlights but you have struggled to find the nerve. Clip In Hair Extensions will provide you with a chance of testing out the look, without any risk and at a low cost. Oh and you are able to colour our Custom-Made Hair Extensions. If you don't like the colour, darken the hair extensions and try something else.
Our Custom Made Hair Extensions are 100% Natural
The range of Clip In Hair Extensions at Melbourne Human Hair Extensions are made with 100% Remy Human Hair. They look completely natural and feel even better.
At our Melbourne CBD Salon we stock a variety of colours and have the ability to mix and match colours to match your natural hair!
After matching the Clip Ins, we offer a service where we cut and blend them to work with your natural hair. Our aim is to ensure that no-one can tell that you are wearing Clip In Extensions.
We Offer Affordable Ranges of Clip Ins
Colouring your hair, styling your hair and more permanent hair extensions can be an investment. In comparison, Clip In Hair Extensions can be more affordable, particularly as Melbourne Human Hair Extensions offer two ranges of clip ins. We have a Pre-Made High Quality range which are lower in cost but we also have a Premium Quality Custom-Made Range which are still very affordable. If cost is a concern for you, consider Clip In Hair Extensions as there are no re-application costs either.
Our Range Is Long Lasting
As we use only Remy Human Hair for our Pre-Made and Custom-Made Clip In Hair Extensions ranges they will last you for years. Provided you care for your Clip In Hair Extensions and treat them as you would you natural hair, you should countless wears out of them. All you need to do is gently brush them, wash and condition them with the right products, apply leave in treatments and avoid unnecessary heat without heat protectants. We do not use synthetic hair, so you are assured years of wear.
Clip Ins are Comfortable
If you do not enjoy the feeling of having more permanent Weft Hair Extensions (or tapes) applied to your natural hair, then Clip Ins might be the perfect alternative. Some women find permanent clip ins a little heavy or uncomfortable as they have extra sensitive scalps. Clip In Extensions are perfect in these instances. They are light, attached gently and after wearing them for a few hours women report that they do not even remember them being there. The added bonus is, if you are ever not enjoying the feeling, you can remove the Clip In Hair Extensions in minutes.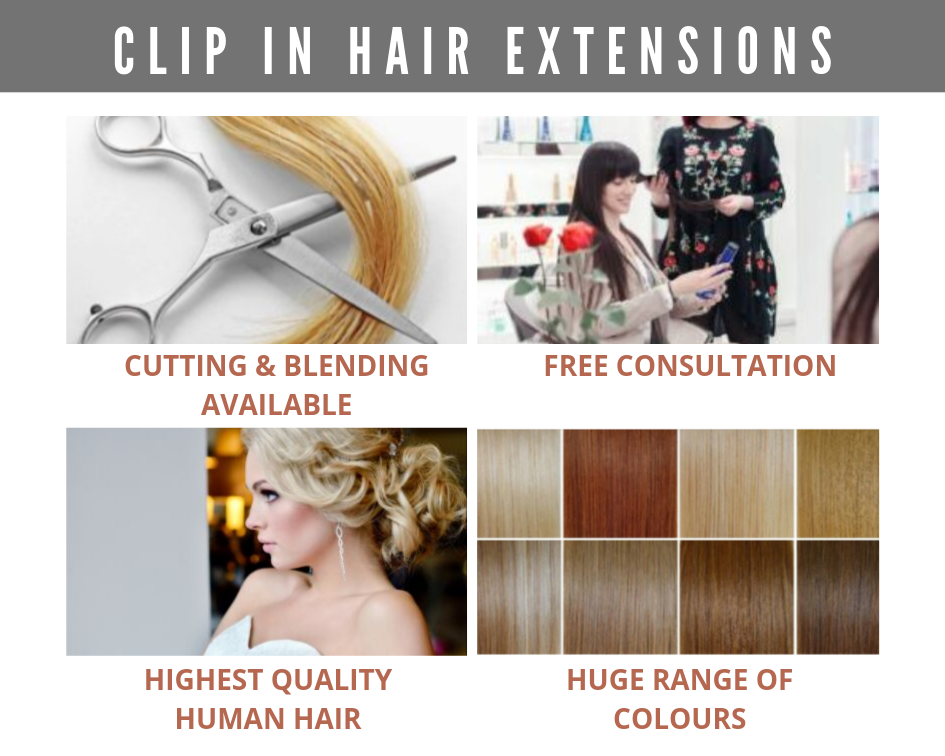 What is the shortest my natural hair can be to achieve an effective look with Clip-ins or Ponytails?
Solid hairstyles such blunt, straight cuts and hair above shoulder length is not ideal for Clip-Ins or Ponytails of 20" length. However, our Clip-Ins and Ponytails can be tailored, layered, shortened and blended to suit your cut and length.
What are the longest Clip-Ins and Ponytails in stock?
Our standard Clip In and Ponytail Hair Extensions are 20 inches in length. They sit comfortably just below the bust line. This ensures they look natural but still give you plenty of length, are well and truly long enough to curl and are dramatic enough to create that "WOW" factor!
Can I order a thicker Clip-Ins and Ponytail Hair Extension?
Yes, at Melbourne Human Hair Extensions we can custom make your Clip In and Ponytail Hair Extensions to suit your specifications. Phone us on 0439349946 to discuss in more detail.
Are highlighted Clip In and Ponytail Extensions available?
Yes, we produce standard base colour Clip In and Ponytail Hair Extensions but we can also custom mix and match colours to replicate your natural highlighted hair. All we need is for you to either Messenger or Text us a photo in natural light or visit our Melbourne CBD for a free consultation.
Do you Cut and Blend the Clip In, Ponytail and Halo Hair Extensions?
Yes, we most sure do. It is very important to us that your Clip Ins or Ponytails flawlessly match your natural hair. We pride ourselves on being specialists in cutting and blending all types of Hair Extensions.
Can I purchase Ready-Made Clip Ins and Ponytails today?
YES. We stock a wide range of ready-made Clip In and Ponytail Hair Extensions, in addition to our Custom Made range.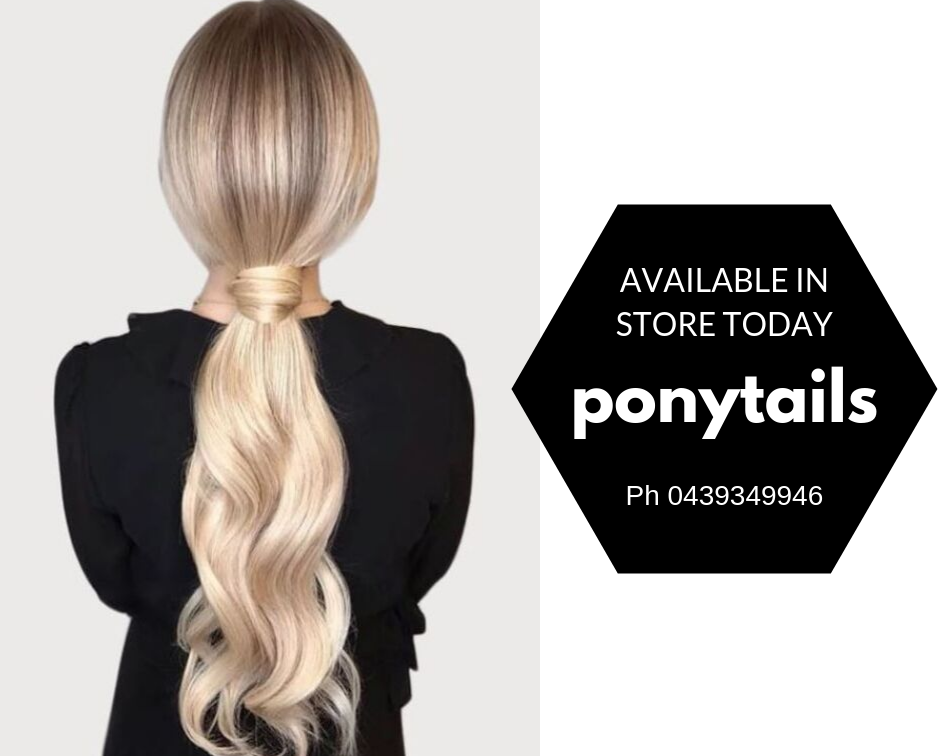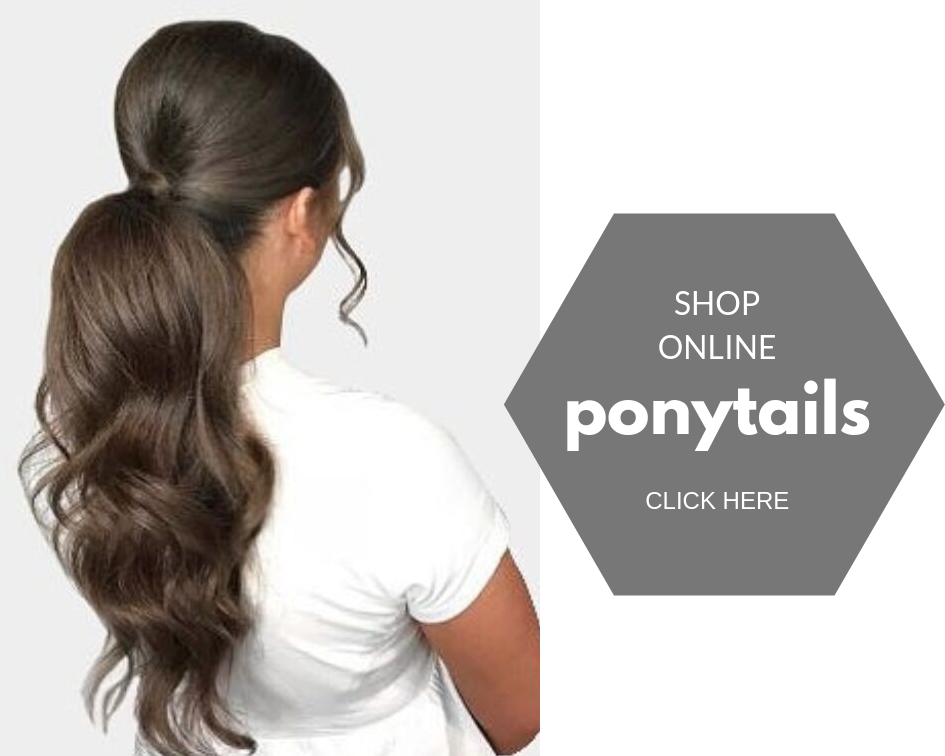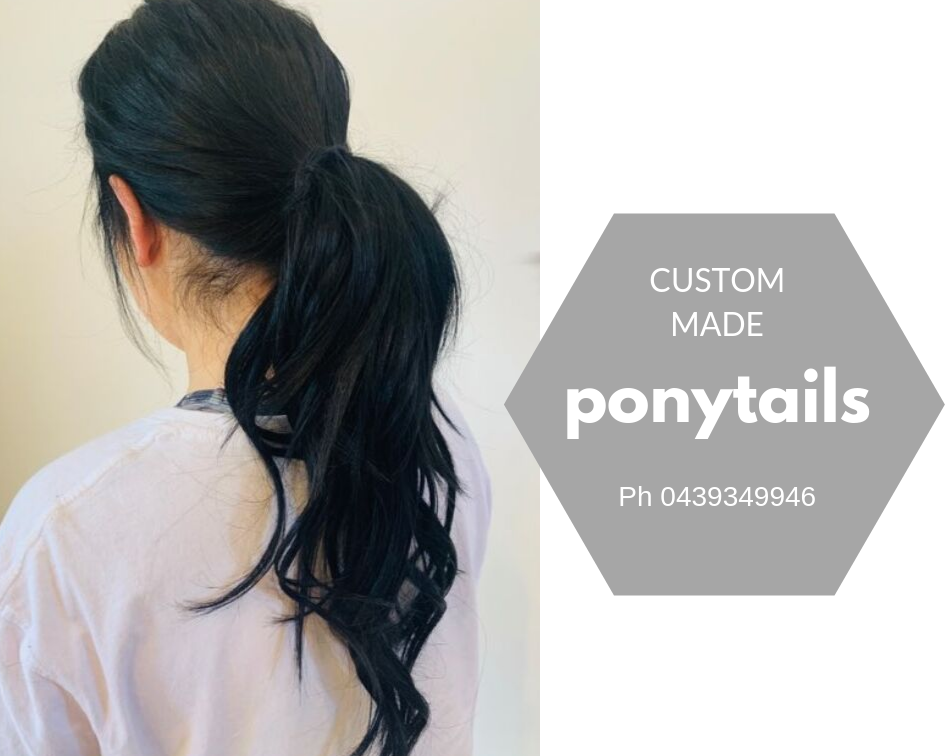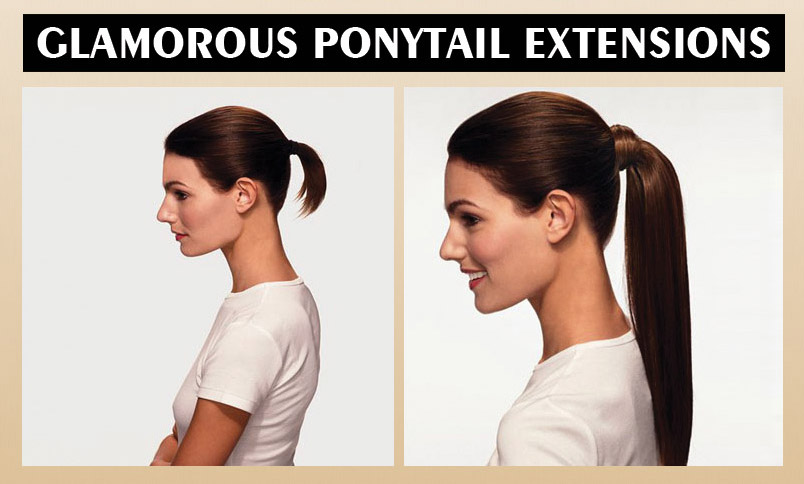 WHY CHOOSE OUR CUSTOM-MADE PONYTAIL EXTENSIONS?
Here are some of the pros:
Simple to Use
Our custom made and pre-made Ponytail Extensions are ultra glamorous. They are also versatile and extremely easy to apply. We have designed them to be that way.
Our simple one piece wrap around Ponytail can be applied to your natural hair in literally seconds. You don't have to be a hairdresser to get it right!
Highest Quality
Our custom-made and pre-made Ponytail Extensions are made from the highest quality, 100% Remy, European hair.
The hair is exceptionally soft and silky and with good care and maintenance, they have a long lifespan.
We steer away from cheaper ranges of Ponytail Hair Extensions that have a synthetic look and feel and look whips and dry at the ends. Whilst cheaper ponytails look good for a night, our high quality range will look and feel incredible for years.
Colour Range
We offer a wide range of standard, common and natural colours.
We can we also personalise our Ponytail Hair Extensions, combining a variety of colours to create your desired colour effect.
Are you wanting to achieve a Balayage or Highlighted look? We can accommodate. Simply phone us on 0439349946 to discuss and we can create the unique style you are after.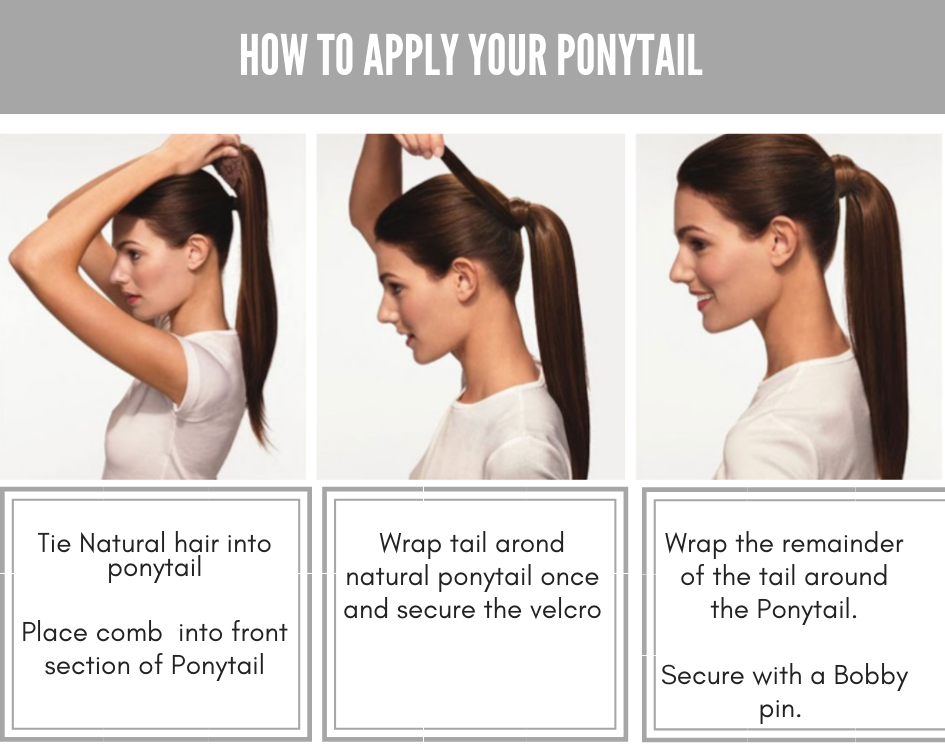 How to apply our Custom-made Ponytail Hair Extension
Create a ponytail using your natural hair.
Tie the ponytail up using a regular hair elastic.
Using the small comb clip that is attached to the Ponytail Extension, secure the piece the top of your natural ponytail.
When the Ponytail Hair Extension feels secure and tightly fastened to your natural ponytail, wrap a small section of the Ponytail Extension around the ponytail and secure with a bobby pin.
EXCLUSIVE CUSTOM-MADE RANGE
NON-PERMANENT HAIR EXTENSIONS
CLIP IN HAIR
EXTENSIONS
---
For more information
click HERE
to go to our Clip In Hair Extensions page.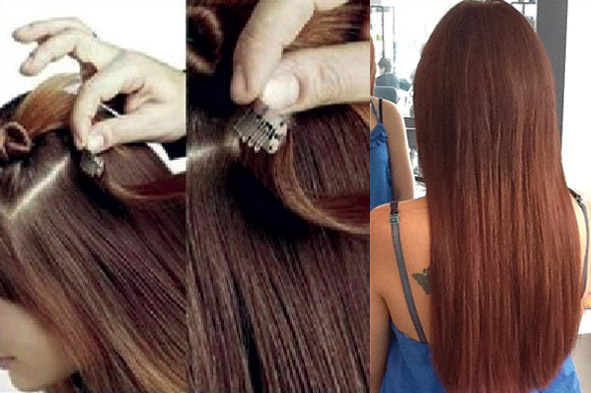 Have you been considering Clip In Hair Extensions?
Our Clip In Hair Extension are made using real human hair.
Our Clip In Human Hair Extensions are perfect for women wanting a quick transformation, women with short hair or women wanting to avoid cheap, synthetic hair extensions.
Ladies, you have found the highest quality, Clip In Hair Extensions in Melbourne, if not Australia!
CLIP IN
PONYTAIL EXTENSIONS
---
For more information
click HERE
to go to Clip In Ponytail Extensions page.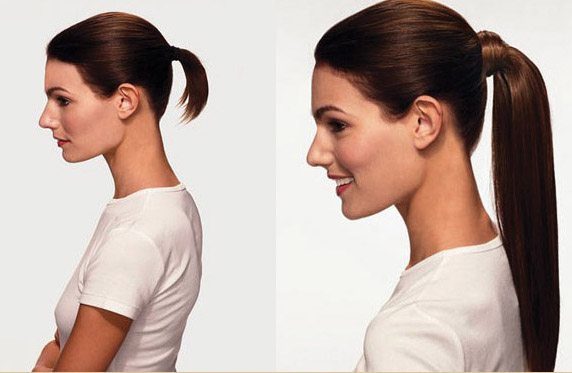 Have you ever considered wearing a Clip In Ponytail Hair Extension?
Or have you tried one but the hair did not look like your natural hair?
We have the solution for you.
Our Clip In Ponytail Hair Extensions are made from real human hair.
We supply our Ponytail Hair Extensions to clients throughout Melbourne and Australia.
You can visit us in Melbourne to find out more, or you can phone us on 0439 349 946.
Give yourself a glamorous new look next time you go out.
Take the plunge and find out more about our 100% Human Hair Ponytail Hair Extensions.
CLIP IN HALO
HAIR EXTENSIONS
---
For more information
click HERE
to go to our Halo Hair Extensions page.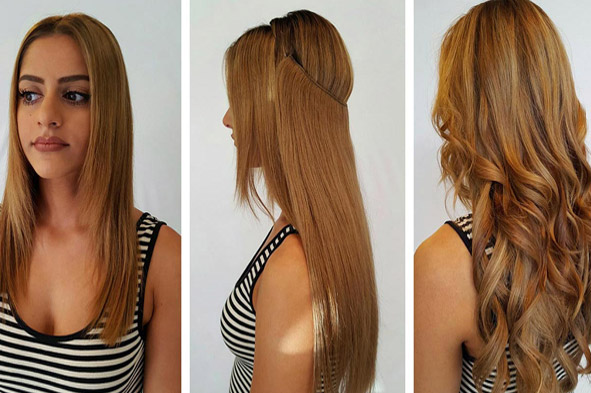 Have you heard of the new Halo Hair Extension?
Our Halo Hair Extensions are a non-permanent Clip In-style Hair Extensions solution. Women throughout Melbourne and Australia are claiming them to be the best Hair Extensions on the market.
The Clip In Halo Hair Extensions is made from real remy human hair.
It is fastened in seconds and has the added security of custom-made Hair Extensions clips.
If you are wanting to try the latest Hair Extensions technique, then the Halo Hair Extension might be for you.