weft hair extensions
Our Weft Hair Extensions System is the safest way to add volume and length, without inflicting damage to your natural hair. It is also the simplest in terms of ongoing maintenance.
Our revolutionary Microbead Application Technique removes the need for the use of any heat, glue or weaving. The silicon coating inside the microbead, once closed, ensures that there is no metal rubbing against your natural hair (see photos below).
Our high quality 100% Remy European Human Hair will leave you with long, silky and sleek hair.
A full head of Weft Hair Extensions is quick to apply (less than one hour). They are also removed in minutes.
Our Weft Hair Extensions are so incredibly lightweight that you will forget you are wearing Hair Extensions!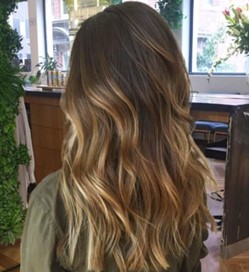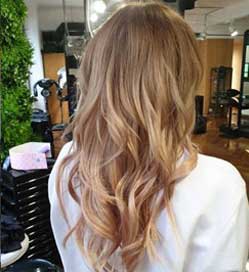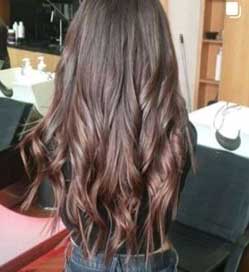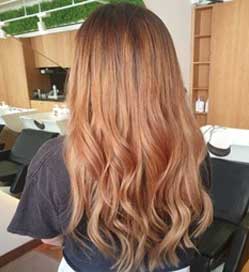 NOTHING COMES CLOSE TO WEFT HAIR EXTENSIONS. WANT TO KNOW WHY?
We can "hand on our heart" tell you that we have researched and tested every Hair Extension technique on the market and Weft Hair Extensions are without a doubt superior to all.
Have you got a few more seconds?
Great!
Let us run you through some of the benefits….
Wefts are super quick to apply, taking under 90mins for a Full Head and 60mins for a Half Head.
Wefts are incredibly quick and simple to remove, taking less than 5 minutes.
Wefts are securely fastened with tiny silicon microbeads and without any glue, heat, weaving, chemicals or solutions.
Wefts are not visible to the naked eye when the natural hair moves, unlike tapes which can often be seen.
Wefts are lightweight, not bulky and lie flat against the scalp.
Wefts do not cause damage to the natural hair.
Wefts can be styled just like natural hair and heat can be applied against the scalp.
Wefts do not pull out fine hair.
It is for this reason that wefts are the preferred Hair Extensions in Europe and are having a serious impact in Melbourne and throughout Australia!
If you are ready to take the plunge and transform your look, phone us today on 0439 349 946 to book an appointment or to arrange your free consultation (either via phone or in person).
Discover why our Weft application system is the most COMFORTABLE & LIGHTWEIGHT Extensions for FINE, CAUCASIAN hair.
There is no doubt that Weft Hair Extensions are the best Hair Extensions technique on the market today.  There is however more than one way to apply for the Weft Extensions.  Let us run you through a few.
Microbead Weft Hair Extensions   ( Our unique system )
As a large proportion of women tend to have hair which is finer, less coarse in texture and straighter, we prefer the Microbead Weft Hair Extensions Technique for our Melbourne Human Hair Extensions clientele.
Let us go into a little more detail for you.
Weft Hair Extensions are fast becoming the most popular technique on the market with a high proportion of clients moving from Tape Hair Extensions (and other methods) to Weft Hair Extensions.
Melbourne Human Hair Extensions previously offered Tape Extensions but came to the realisation that the drawbacks associated with tapes (e.g. the damage that comes with attaching sticky tape to natural hair) outweighed the long list of positives associated with Weft Hair Extensions.
It is for this reason that we specialise in the Weft Extensions method only.  We can put our hand on our heart and promise you that we only offer a method that we truly believe in.
Let us explain in more detail why we stand by this Hair Extensions method.
You will see us mention this repeatedly throughout our website and all of our educational and promotional material. The main benefits of Weft Hair Extensions are NO HEAT, NO GLUE, NO STICKY TAPE, NO WEAVING, NO VISIBLE PIECES, 60 MINUTE APPLICATION, 5 MINUTE REMOVAL.  Incredible and incomparable benefits.
Weft Hair Extensions are applied with silicon microbeads in long row of wefts, rather than individual pieces. Having the wefts securely applied to the scalp in long rows prevents the extensions moving all over the place, which in turn, prevents them being visible to the naked eye when the client moves their head (or pulls their hair up in a ponytail).
Weft Hair Extensions are incredibly comfortable and lightweight. There is even distribution of hair weight across each weft, which means that you will not feel heavily weighted on one area of the scalp.  This is not only great from a comfortability perspective but also reinforces our message that Weft Hair Extensions are designed to cause the least amount of damage to your natural hair.
As mentioned, we use no glue, heat or weaving but even better, we use only the smallest clamp tool to apply the silicon microbeads. This adds to keeping your natural hair in excellent condition.
Our Weft Hair Extensions are double drawn. What does this mean? This is a sewing technique which has been designed to ensure that the Hair Extensions do not shred, that the hair is more secure and that it lasts longer.
Do you offer payment plans?
YES. We offer two payment plan option. We can can use your Afterpay or Oxipay account.
Do you offer FREE consultations?
YES. Phone 0439349946 to arrange a visit to our Melbourne CBD Salon.
Can I get Hair Extensions applies on the same day as my consultation?
YES. As we are wholesalers of 100% Remy Human Hair Extensions we alway have a large variety of colours stocked at all times.
Can you colour my hair before I have my Hair Extensions applies?
YES. We offer a hair colour service. Contact us on 0439349946 to discuss your colour needs in advance.
Can I mix and match Hair Extension colours?
YES. We are able to mix n match colours to meet your requirements. Are you looking for a highlighted or lowlight look? No problem. We can match all hair colours.
Can I turn my Wefts into Clip-ins, Halo or Ponytails?
YES. We can transform your Weft Hair Extensions into either into Clip-ins, a Halo Hair Extension or a Ponytail. We can also add more new hair to make the piece thicker in volume.
Are Weft Hair Extensions good for fine hair?
Absolutely. Weft Hair Extensions are ideal for fine hair. As our hair is not attached via weaving, sewing or applying glue, there is no damage to your natural hair. We gently attach the hair with tiny microbeads and the best news is, the internal structure of the bead is coated with silicone. This ensures we provide your natural hair with an added layer of protection.
Hair Extensions
Congratulations on arriving at this page.
Why Choose a Hair Extensions Specialists?
I'm sure by now you have spent hours upon hours researching which Hair Extensions System is the best for you. This includes searching the Internet, discussing options with girlfriends or even consulting your hairdresser. Not only are you about to invest a substantial amount of your hard-earned money on your hair but you are also soon to purchase a product that requires time and effort to maintain. This means it is imperative that you make an educated decision.
What Can You Expect of Melbourne Human Hair Extensions?
When you choose our Melbourne Human Hair Extension Weft / Micro bead application system you can be ensured of no damage to your natural hair. This is due to our silicon coated micro beads. The silicon coated inside the bead ensure there is no metal on metal rubbing on the hair once the bead is closed. See our video.
A full head of Weft Hair Extensions are simple and quick to apply (in less than one hour) They are removed in minutes.
As they are so lightweight, we assure you that you will forget that you are actually wearing Hair Extensions!
Extensions
melbourne • since 2007
Love is in the hair
WELCOME TO THE HOME OF THE BEST HAIR EXTENSIONS IN MELBOURNE. WE ARE THE WEFT HAIR EXTENSIONS SPECIALISTS.
Are you looking for the best place to get hair extensions in Melbourne?
We are so please that you found us. If you want to have Hair Extensions applied
or you are looking to buy custom-made hair extensions, we are Melbourne's premiere Human Hair Extensions specialists.
We apply and supply a range of Human Hair Extensions, including the following:
• Permanent Hair Extensions
• Clip-in Hair Extensions
• Ponytail Extensions
• Halo Hair Extensions
Turn your Wefts into a Halo, Clip-ins or a Ponytail…
Not 100% sure you want to commit to Permanent Hair Extensions. If for any reason you change your mind on having Weft Extensions DON'T PANIC, we can simply turn your Weft Hair into a Halo, Clip-in or a Ponytail Extension.
Yes, the perfect solution!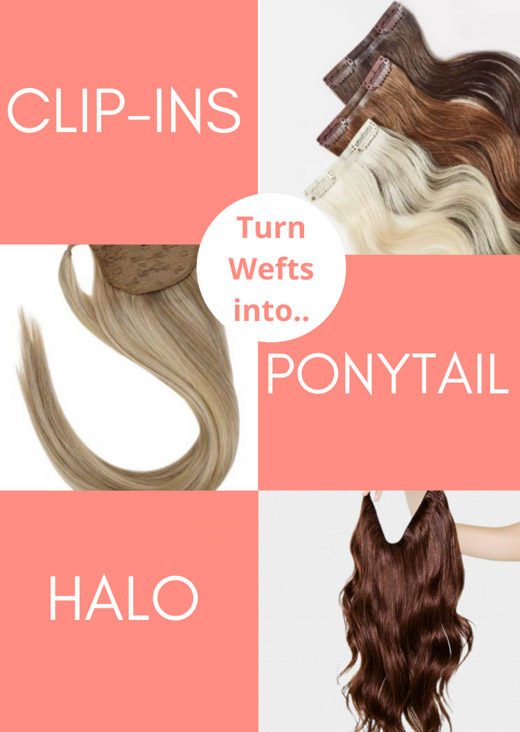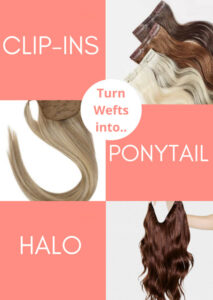 There is a huge list of advantages associated with Microbead Weft Hair Extensions.
One of the positives associate with Microbead Weft Extensions is the 'tiny' (3mm) silicon coated beads that are used to fasten the natural hair to the weft.  The silicon protects the natural hair and because the beads are so small, they sit totally flat on the scalp.
Most of our clients comment on how extremely light the wefts feel and many suggest that they often "forget they are wearing extensions".  Oh and did we mention? Our clients report experiencing no discomfort.
When deciding on what Weft application technique best suits your natural hair type please consider the table below.
Also, read through our site for more information (and videos) on the Weft Hair Extensions technique and please phone us anytime on 0439349946 with questions or to arrange a consultation at our Melbourne CBD Salon (by appointment).
Traditional Sewn in Weave
The traditional Flat Track Weave system was and still remains very popular.  This system was designed for people with naturally thick hair, curly or coarser textured hair.
How does it work?
The stylist creates a track (plait) and then physically sew a weft onto the track.
Yes, there are some definite advantages of this technique for people with suitable hair but one of the disadvantages of this technique is that they feel bulky and heavy on the scalp.  They are also often visible.
For clients without the required hair type, we often receive reports of there being a certain amount of discomfort, particularly after they are first applied.
Extensions
melbourne • since 2007
Weft Hair
Melbourne Human Hair Extensions have our own range of hair. We do not take any risks by using hair supplied by other suppliers. We have personally sourced the hair, just for you. This way we can guarantee our quality. We have tested hair from all over the world and feel confident that we have selected the finest Indian and Russian Remy Human available.
Refund or exchange after installation
Note: hair extensions are considered hygiene-sensitive product
No refund or exchange made after installation. Please choose your product and method installations carefully. Melbourne Human Hair Extensions will give the best advice possible but the decision is entirely up to you. If you decide that the method you selected isn't right for you after the installation, Melbourne Human Hair Extensions will not be accountable for it.