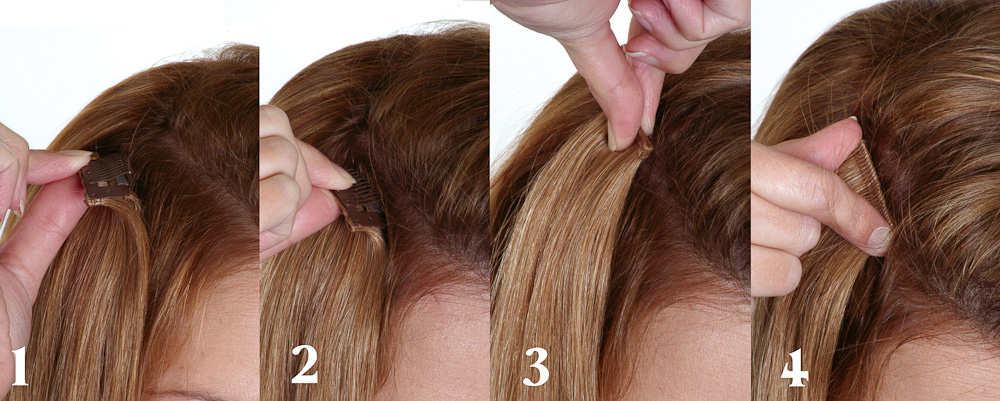 Clip-In Human Hair Extensions
Looking for the easiest, fastest and safest way to get long, thick and shiny hair? Clip In Hair Extensions are the perfect option, as you can achieve your desired look in minutes.
Our Custom-Made 100% Remy Human Hair Weft Clip In Hair Extensions come with the clips already attached to them. As you would have guessed, you simply take the wefts and clip them to your natural hair, all by yourself!
At Melbourne Human hair Extensions our Clip In Hair Extensions are made from the highest quality Russian and European 100 % Remy Human Hair. Our Clip In Hair Extensions come in a variety of colours, one of which is sure to match the colour of your natural hair.
Clip In Hair Extensions are the perfect way of temporarily spicing up your look. They are perfect for quickly changing your style and / or colour.
How are the Clip In Hair Extensions applied? You simply divide your natural hair into the appropriate number of sections, unfasten the clip and then gently fasten the Clip Ins to your natural hair.
An important feature of Clip On Extensions is the fact that it highly reduces any stress or damage to your natural your hair, as there is no glue, beads or heat. Clip On Extension won't pull at your natural hair and they do not cause hair breakage since they are temporal and gentle in nature.
We bet you drool over hairstyles of major celebrities. Well, this may or may not surprise you but most of the time their hair is artificial. Yes, they are wearing Hair Extensions. Whilst we may have burst your bubble, the great news is, you too can achieve their looks, even on a limited budget!
Worried about the versatility of Clip In Hair Extensions? Don't be. Clip Ins can be styled in whatever manner you choose. Just treat them like you would your natural hair. Actually, they are even better from a styling perspective. Most women find that they can try styles that wouldn't have been possible with their natural tresses. Fishtail Braids is just one example.
Clip In Hair Extensions require little maintenance. Unlike permanent Hair Extensions which require the services of a hairdresser or stylist, you can attach them yourself, saving you the hassle of visiting the hair salon.
Before we leave you, we just want to stress that there are several types of Clip In Hair Extensions available on the market. Avoid synthetic hair, avoid wispy hair and look for gentle but secure clips. You want Clip In Extensions that will last for years, so aim for 100% Real Human Hair Clip In Extensions. They will last the distance.
Feel free to phone us at Melbourne Human Hair Extensions on 0439 349 946 with any Clip In Hair Extensions questions or to order a set of our high quality, 100% Remy Human Hair, Custom-Made Clip Ins.